Well I guess we can't say this was unexpected. Congress failed to come to a budget deal, so as of today, the government shut down.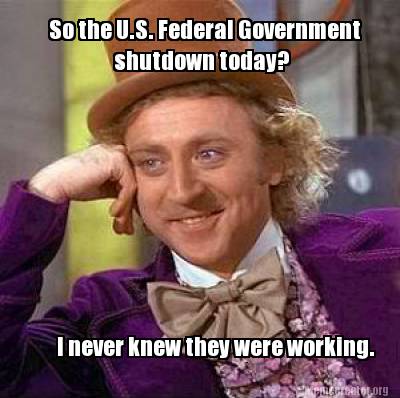 Many people may think, "What's the big deal?" Others may think the whole economy is about to collapse. While it may not be that dramatic, there are many areas that could affect people's life, some of them that many people did not think about.
For example, consider the wedding industry. While weddings will still take place and people will party on at receptions, many dreams will be altered significantly.
According to the
USA Today
,
The National Mall and Memorial Parks issued 24 permits for October weddings at the Lincoln Memorial, George Mason Memorial and the D.C. War Memorial.
Brides and grooms who applied for permits up to a year in advance were notified that a government shutdown would cancel all those events.
Weddings at some hotels at Yosemite National Park are being moved a few miles away, and a wedding set to take place at the Grand Canyon has been canceled as well.
Furthermore,
the shutdown also means D.C. Superior Court
won't be accepting
new applications for marriage licenses.
Clearly, regardless of anyone's political opinion regarding the shutdown, there are some victims. As a wedding planner, how would you handle this situation?
UPDATE 10/4:
So leave it to TV comedian Stephen Colbert to have fun with this very topic. On last night's show, Colbert married a couple after their original wedding plans were ruined by the government shutdown. The couple had planned to wed near the Jefferson Memorial until their wedding site was closed by the shutdown. Check out the video below to enjoy the nonsensical awesomeness that ensued in very Colbert-esque fashion.